Bee Scale BeeScales.io is a multi-functional device, created to help you keep track of your bee family at all times. You can use it to easily monitor the weight of your bee hive and thus control how your bees are doing, even when you're far away.This modern and technologically advanced bee scale will provide you with loads of valuable information that is always available to you on the go.
It offers a number of practical benefits and will significantly improve your beekeeping results.
The scale connects to a cloud, automatically uploading all data it collects in real time and ensuring that it remains safe and accessible at all times.
The device enables you to review all data on your mobile app or on the website, no matter how close or far you are.
The bee scale automatically takes measurements of the weight once every hour.
The bee scale features a built-in, ready-to-use SIM card that automatically connects to the mobile network as soon as you turn it on. And the mobile data is completely free for the entire first year!
The casing of the bee scale is waterproof and resistant to rain and snow, thanks to its high-quality components.
The bee scale is solar-powered so you don't have to worry about charging or replacing your battery or even experiencing any interruptions in functioning.
The package includes:

1 central unit of the bee scale
1 weight sensor for bee hives
1 weather sensor
1 USB cable to connect the solar cell to the central unit
1 solar cell
1 built-in SIM card (mobile data costs included for the first year)
Weight sensors dimensions: 45cm x 5cm x 3.8cmCord length (connecting weight sensors to the central unit): 2.5m
Get Your Bee Scale BeeScales.io and Become a Better Beekeeper Today.
Order Now!
Scheme of Bee Scale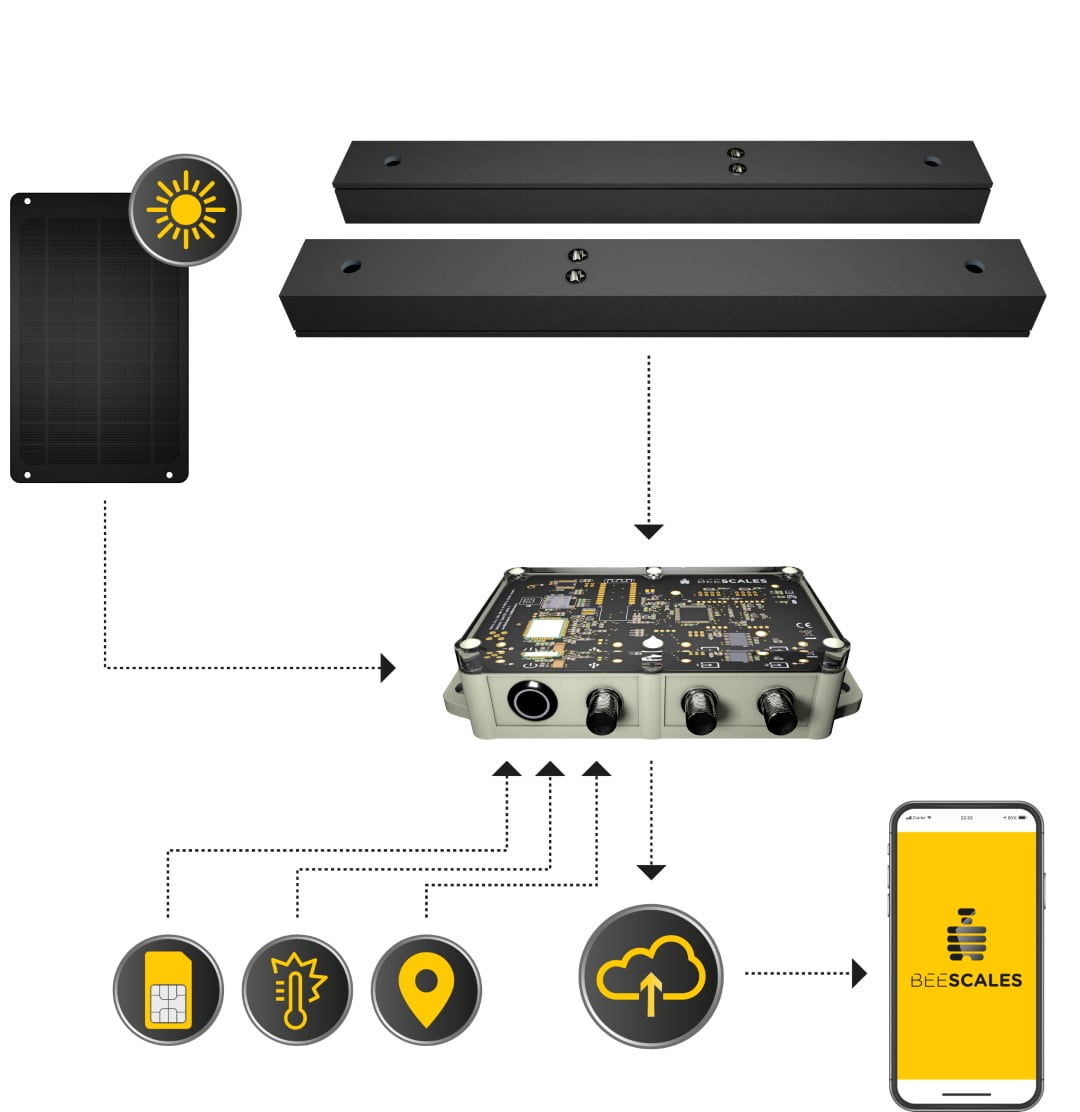 Bee Scale users
Vorteile

Benefit-Mobilna-aplikacija

Benefit-Spletni-portal

Benefit-vsako-urne-meritve

Benefit-centralna-enota

Benefit-enostavna-prikljucitev

Benefit-nadgradljiv-firmware

Benefit-vremensko-odporna

Benefit-senzorji-teze

Benefit-vgrajenaSIM

Benefit-letni-strosek

Benefit-uporaba-tehtnice-lastnaSIM

Benefit-solarna celica

Benefit-vremenski-senzor

Benefit-moznost-pritrditve-z-vijakom

Benefit-lociranje-centralne-enote-v-omrezju-preko-vgrajeneSIM

Benefit-GPSmodul

Benefit-zascita-pred-krajo

Benefit-ePaper-zaslon

Benefit-Objava-meritev-na-spletni-strani